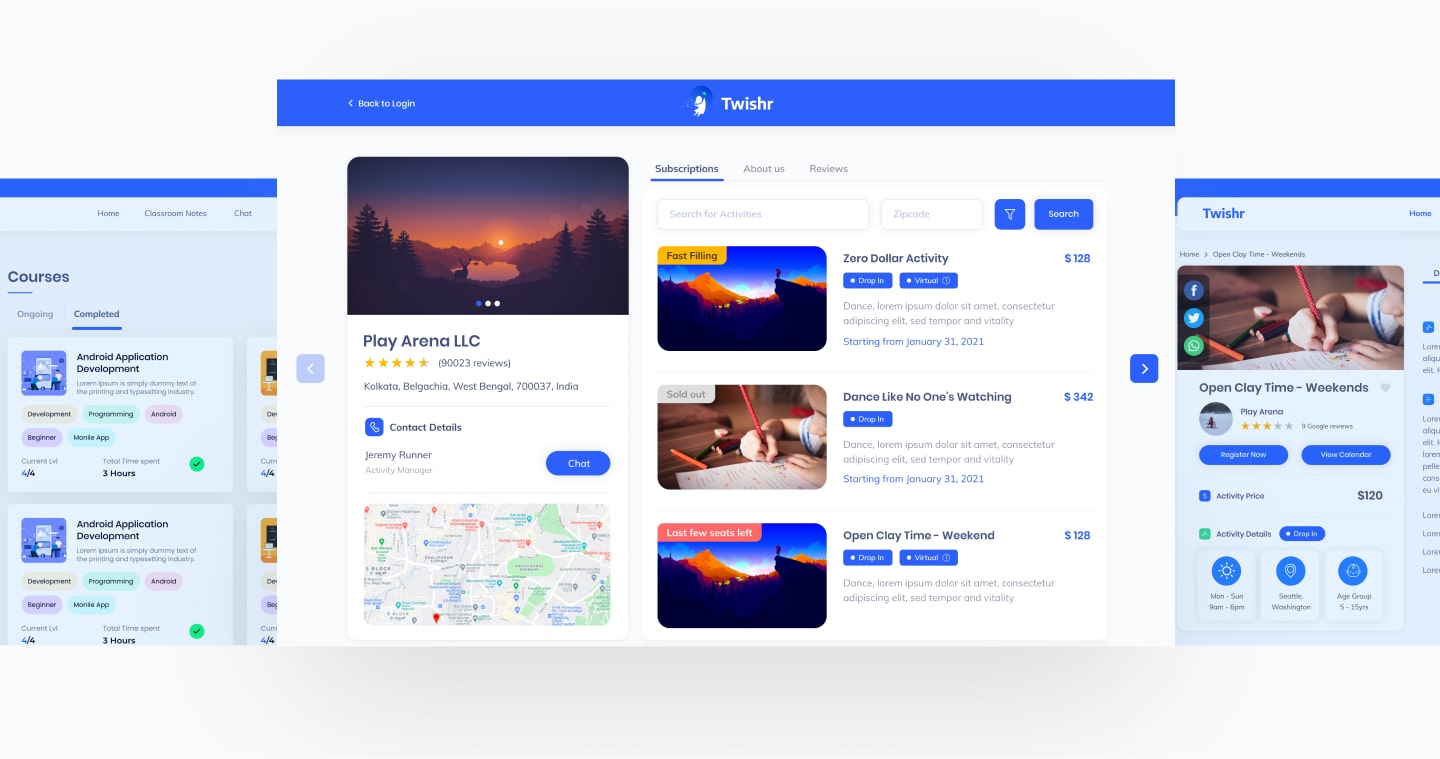 case study
End-to-end digital product development for Twishr – an activity center management platform
Twishr is a completely digital center management solution for activity centers to manage schedules, classes, students, coach rosters, classroom notes as well as billing and invoicing. It also lets you promote your new classes or new schedules to parents on the network, and lets you publish your calendar to your Facebook page. Twishr is built from the ground up with customer experience at the center, where one can on board and get started with publishing your activity in less than 10 minutes.
Twishr's integration with Zoom, the world's most popular video conferencing software, lets the owner of the activity center, set up virtual classes directly with their Zoom account. This built-in feature with the Family App, allows students to connect to the classes at the desired time without the hassle of finding zoom links in emails or setting up reminders every single day.
tech stack
Node.js, React
Website
requirements
Requirements of Twishr
When it comes to a platform that helps to facilitate and make e-learning experiences richer, the foremost requirement of such a SaaS product will always be user experience. They required us to do thorough user research and create UX prototypes to test what fits best with today's generation of teachers and students.
They needed to build apps for android and iOS users which had easy-to-use interfaces, were scalable according to future growth aspects, and also needed them to be created on a tech stack that supports various third-party integrations into their working systems.
due diligence
Our team overcame all challenges like a pro
Since people might be new to online learning platforms, it is necessary that functionality is kept as simple to operate as possible. To facilitate the easy adaptability of users to such platforms, repeated prototypes and testing is done with constant feedback and user behavior analysis to make sure the architecture is robust but minimalistic.
Since user account management was a part of the application, data management systems, swift video/audio communication channels, secure document transfers, and accurate verification systems were just some of the things that were necessary to build a platform suitable for children and teachers to understand with a simplistic and professional design and top-notch functionality with no bugs whatsoever.
We worked closely with Twishr to understand what features they wanted to introduce to make activity center workflows simpler and better through the digital space and our developers made sure to keep up with their expectations.
design
Our design team was equally synchronized
Our target audience were individuals of all age groups ranging from very young to old and hence it is important to keep a fun, engaging, and creative user design with a cheerful user experience. Our design team was cognizant of the design attributes that were to be united with functions of creating schedules, daily reminders, account creation, payment channels, registration platforms, etc.
The colors, font, and theme for the website were kept easy on the eyes, and the website promoted easy navigation supported with proper graphics and features.
implementation
Regardless of complexity, implementation is always fun!
With Twishr having a strong digital asset, the strengthened user experience achieves its important goal: making it extremely organised and easy for activity centres to manage their classes, batches, teams, teachers, students etc. and have swift communication channels to have glitch-less interaction and facilitate an appealing hub for their community.
Codebuddy aided Twishr's capability of providing additional trust to their customers with an impeccable platform and the credibility for growing their brand globally.
Let's move your business processes online, too and just like Twishr, we'll enable you to develop a scalable digital solution to advance your digital services on the market.
Sudipta and team Codebuddy has been very communicative, available, and organized throughout the project which contributed to the successful completion of our project in a timely manner.
He followed through on all our objectives and was easy to work with. We really appreciated his support throughout the app launch process as well.
We look forward to working with him more on future projects!
Activity Rocket - Edtech
Building a one-stop shop for digital extra-curricular activities
read full story