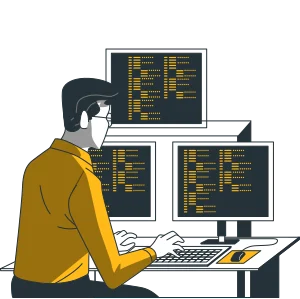 Adobe Experience Manager
Deliver
exceptional experiences

across channels and touchpoints to achieve digital success

With significant experience in building enterprise-level web content management solutions, our Adobe Experience Manager (AEM) developers can help you build an efficient AEM platform that provides engaging and personalized digital experiences for your users across channels, at any touchpoint.
our offerings
Unleash the power of
AEM

to build enterprise-level web content management solutions.
As a native solution, AEM includes powerful capabilities for content management, eCommerce, personalization, advertising, campaign management, data analytics, and visualization. Our AEM developers will help you build an efficient and engaging platform
01
Consulting & Development
Create content-rich, responsive, and interactive AEM websites using our full-scale AEM services, UI/UX strategy, and cloud-based development.
02
Migration & Upgradation
Upgrade and Migrate your existing CMS to AEM, AEM in-premise to AMS in a structured process keeping the data intact.
03
Third-party integration
Integrate your AEM website with a wide range of third-party applications including CRM, Marketing Automation, and Analytics to utilize system functionalities.
04
AEM Testing
Leverage our QA Testing expertise for a wide spectrum of end-to-end testing services to ensure seamless performance.
05
Support & Maintenance
Round-the-clock support from our AEM specialists to address any challenges and augment performance to boost ROI
06
AEM Managed Services
Take advantage of our comprehensive AEM solutions such as Analytics, Target, AEM Forms, Assets, and Sites to ensure AMS cloud functionality.

Codebuddy Pvt. Ltd. delivered the project in just two months despite the huge amounts of data that had to be migrated to the new system. The team led an organized and collaborative process to ensure a seamless workflow. They also provided valuable suggestions to further optimize the client's system.
TECHNOLOGY
we leave no tech stack behind
We have built 90+ products in a diverse range of domains from enterprise SaaS to consumer-based web applications.
Our teams are honed by domain experts who help you make pragmatic decisions in selecting the right infrastructure and tools without losing sight of your product vision.