Back to openings
QA (Software Tester)
We are looking for a QA(Software Tester) to join our agile team of professionals.

job description
what would you be doing?
Designing test plans, scenarios, scripts, and procedures.



Executing tests on source code.
Analyzing test results and reporting to the development team.
Working with the development team to correct bugs and errors.
Performing routine inspections and quality tests.
Preparing and implementing quality assurance policies and procedures.
Identifying and resolving workflow and production issues.
Ensuring that standards and safety regulations are observed.
Addressing and discussing issues and proposed solutions with superiors.
Documenting quality assurance activities and creating audit reports.
Making recommendations for improvement.
Creating training materials and operating manuals.
Qualities
what do we look for, in you?
A Bachelor's degree in Computer Science, Engineering, or related field.
Strong test documentation, management, execution, and reporting skills.
Individuals must have experience in testing Web and Mobile(Android/iOS) applications.
Good working knowledge of test management software, programming languages, and QA methodologies.
3 years of experience in QA testing.
Good teamwork and critic
Strong ability to understand business processes and logic.
Ability to perform comfortably in a fast-paced, deadline-oriented Agile work environment.
optionaL skills
We will be even happier if you have:
Automation testing using Selenium is an added advantage.
Basic knowledge of Java or C++.
Should know to make project videos with good background music and editing.
Be a QA Trainer - Can train new people how to become a pro in QA from novice.
Can have managerial and leadership skills so that a QA can able to manage projects and lead with a better team.
life at codebuddy
What joining Codebuddy means
Working in a comfortable and stimulating environment that boosts creativity.
Being involved in challenging projects.
Working with clients from around the world.
Enjoying flextime and flexplace: adjust your daily schedule to your individual needs!
We decide together and value equality: there is no strong hierarchy in our teams, and every opinion is more than welcome.
Processes based on Scrum and Agile methodologies
Dev-friendly processes such as Code Review.
The constant development of your hard and soft skills.
Having a smooth start: your leader and a buddy will support you and mentor you.
process
What's next?
Fill out the form.
Give us some time to review your application.
Meet us for an interview.
Complete a recruitment task to see how we work.
Join our team!
If you want to know more, email us at teamhr@codebuddy.co and let's talk!
application
Fill out the application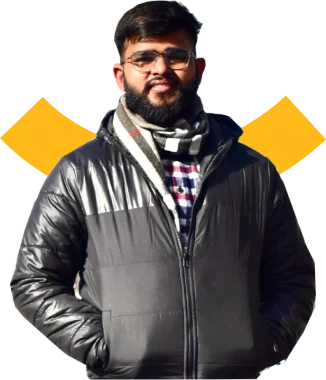 queries
Any questions? Talk to Shashwat
You can ask him any questions that you have regarding
this position, our company, the process, Literally anything
that can help you join us.
connect with him
top-rated
We aim to be the best workplace one can get
We are a 5 star rated in multiple categories altogether, year after year. It's our employees who made this possible.