case study
One of its kind self-service debt negotiation tool
YouNegotiate allows customers to take control of their financial future and offers a free service to all in order to resolve debts and pay bills in a single place through a simple process that doesn't require you to speak to a collection agent or a creditor, the company will securely negotiate with creditors on customer's behalf! They believe in the need to fix the consumer debt problem and that their platform is the solution to help consumers understand their personal debt situation and be able to easily make or change payments at any time.
requirements
Requirements of YouNegotiate
Requirements of YouNegotiate Since YouNegotiate works with customers' creditors and restructures their debt in a way that makes it easier to pay off. They do this by creating a debt management plan (DMP) tailored to clients' situations and hence require all information related to bank account details, creditor details etc. This requirement of data security and compliance becomes a big challenge for Codebuddy to adhere to.
They wanted separate user accounts for all users and wanted to provide a seamless debt repayment process with a simplified application experience. Features like tracking transactions & account balances, monitoring monthly expenses, controlling spending with a money spending tracker, receiving bill reminders, alerts, warnings and notifications, connecting cash, credit cards, loans, tracking investments, etc with just one tap, under one platform had to be included.
due diligence
Our Due Diligence
Our engineers and UX designers perceived this app as a personal finance manager for users and took a deep dive into users' financial management pain points and uncover new ways to use this savings app and reach their money goals. We defined requirements, features and systems with YouNegotiate and worked on how we can help users to improve their budgeting & spending habits and yet help them to repay all their debt without giving a feeling of heftiness.
We went granular with the application and integrated features like calenders to help them see a global review of payment requests and deadlines, debt repayment tracker and achievement celebration icons, proper statistical calculations of budgets, future income and spending forecasting systems and alerts to manage it according to monthly/yearly budgets, and transaction monitors to name a few.
Through the platform, YouNegotiate will show the users the negotiation status with each of their creditors and recommend them a monthly repayment method that will work the best according to their finances.
We provided a dashboard for all users to see where all their money is going from a helicopter viewpoint and finally help them to save money and get free of all debts. All users' data migration into the platform was done with proper encryptions and security was not compromised at all.
design
Our design team was equally synchronized
Our UX team understood one thing through user research and it was that most of the time they're not aware where the money is going, and how much. Due to automated billing systems nowadays, people are tricked into subscriptions and recurring billings and our team gave a simple solution to this problem – graphs. Graphs can help the user to have a better understanding of their financial life. Through pie charts, the user was kept aware of their money spending and detailed information about payments.
The colour scheme was kept according to risk and stability profiling, and icons were designed to keep users motivated to stay into healthy financial habits.
implementation
Regardless of complexity, implementation is always fun!
Even though this platform had complexities to decouple users from emotions of huge expenditure and pull them out of the misery of having debts, our team had a lot of fun in collaborating with YouNegotiate to create this amazing platform to help people take control of their finances. A lot of user research and prototyping was involved, only to improvise on glitches and create a blissful yet liberating experience for the users. Our mission was to create a stress-free environment around the platform to create trust and liability of users on YouNegotiate and it was extremely successful.
Similar to this, Codebuddy can help you build an impeccable debt management platform to help your customers get free of debt forever.
Sudipta and team Codebuddy has been very communicative, available, and organized throughout the project which contributed to the successful completion of our project in a timely manner.
He followed through on all our objectives and was easy to work with. We really appreciated his support throughout the app launch process as well.
We look forward to working with him more on future projects!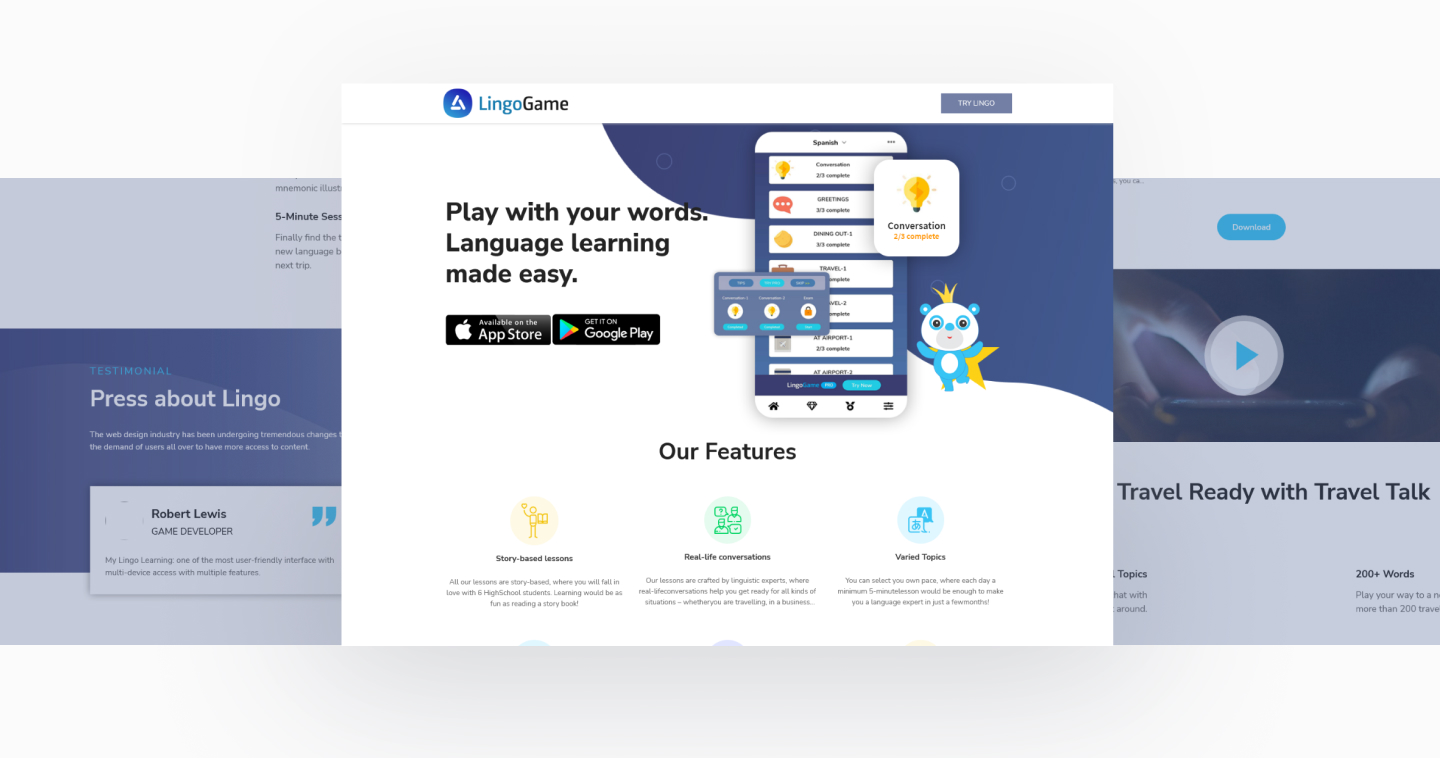 MyLingoLearning - EdTech
Building a language learning application that really connects
read full story