case study
Building a one-stop shop for digital extra-curricular activities
Activity Rockets is an online platform for discovering and hosting unique extracurricular activities, classes, and events for all age groups and bringing you the best learning experiences available for extracurricular activities. With hundreds of courses at your fingertips, Activity Rocket gives curious adults the ability to find new passions, develop new skills, and try new things and also gives parents the ability to find the best learning experiences for their children: from preschool to university, there is something for every learner, across every subject, and within every discipline.
tech stack
Node.js, React.js
Website
requirements
Requirements of ActivityRocket
Activity Rocket had the usual requirements that of a usual e-learning platform which included the ability of users to make accounts, browsing of courses with filters, selecting courses and paying for them, feedback mechanisms and 24/7 support.
While the above features were from the student perspective, features were different for the tutors and activity centers who were selling their courses on Activity Rocket's platform. Proper tools for class scheduling, student management, document uploading systems and basic project management had to be integrated into the platform for the teachers to also have a great teaching experience.
Some other requirements included digital inclusivity for students with old devices or slow internet connection; the ability for the app to work with smart TV and mobile phone. All above requirements were fulfilled with speckless functionality.
due diligence
Our team overcame all challenges like a pro
The teams at Codebuddy started the discovery process by interviewing the stakeholders to gain a better understanding of what business objectives & features needed to be included in the site. We took a deep understanding of the niche to deliver the flawless integration of various tools into an educational marketplace to encourage activity based learning and curate an interface appropriate for all types of courses to be uploaded in the platform.
The audio-video requirements were a challenge, but since we had the experience of building e-platforms and had dealt with similar situations in the past, this time it was a breeze. We performed the backend factoring to make sure the workflow of the e-learning platform provides users with a seamless and hassle-free experience.
We optimized the website performance with prototypes and testing by extending its functionality, adding advanced features for better effectiveness of the e-learning process. We also managed the payment gateways integration and develop a complex coupon system with discounts for lessons.
We added APIs and third-party integrations to be able to run email marketing campaigns, enable group chats, use a whiteboard on the platform, set up push and email notifications, and reorganize the course purchasing process to increase conversion rate.
design
Our design team was equally synchronized
After carrying out a comprehensive user case studies and market research, some of the common problems found by our UI/UX professionals were that majority of students were unsuccessful in completing the courses, they had problems with network sometimes thereby missing a few classes and ultimately the motivation to attend the rest of the course, they found it pointless if they can't measure their progress, struggle by using third-party apps to take screenshots/note down what they're studying for future reference, and many more. So our UX professionals tackled all these problems by creating a built-in, personalized reminder to enable users to complete their courses, enabling users to collaborate and network on the platform, helping users on picking the best course from many positively reviewed courses, helping users make digital notes of whole course for future reference etc.
The UI for the same was kept cheerful and the use of lively colors was promoted throughout the platform as well as the website to keep the environment consistent throughout. The platform was kept very easy to use and simplistic enabling usability for all age groups.
implementation
Regardless of complexity, implementation is always fun!
Codebuddy had a lot of fun and satisfaction building a platform that bridges the gap between technical and business sides of the eLearning marketplace project and provides opportunities to people from all over the world to participate in interesting extra-curricular courses that seem fun and engaging at the same time. All data security measures, back-end and front-end both, were taken care of before launching the platform to the public.
Let us build the perfect e-learning platform for your business to reach a global audience through a perfect digital presence and just like Activity Rocket, you can skyrocket your sales by providing an efficient learning and teaching experience to all.
Sudipta and team Codebuddy has been very communicative, available, and organized throughout the project which contributed to the successful completion of our project in a timely manner.
He followed through on all our objectives and was easy to work with. We really appreciated his support throughout the app launch process as well.
We look forward to working with him more on future projects!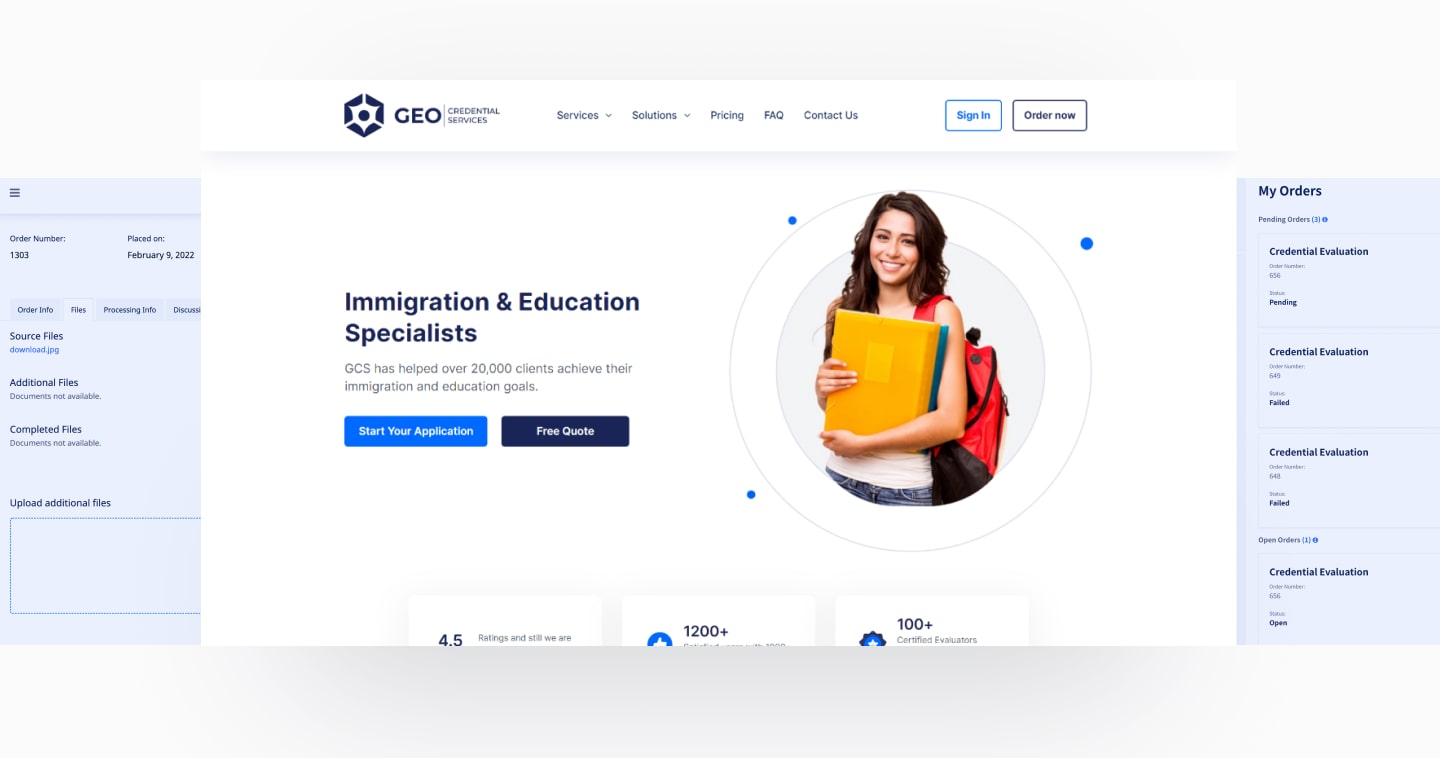 GCS - Service Marketplace
Building a credential evaluation and certified translation platform – GCS
read full story