case study
Website for Australia's largest gym insurance platform
Gym Insurance HQ has fitness industry specialist advisers that can help take the hassle out of organizing insurance, recommending the most competitive and comprehensive fitness insurance coverage to meet your needs regardless of if you are operating as a mobile personal trainer, a pilates instructor, or operating a chain of 24/7 gyms. As part of Australia's largest insurance group, Gym Insurance HQ has access to over 170 local and international insurers, which allows them to bring the right fitness insurance product to you.
requirements
Requirements of Gym Insurance HQ
Gym Insurance GQ wanted to lead in the market of insurance companies (rightly so!) and for that, they needed a website that really converts. They wanted to attract customers with an appealing yet information-heavy website explaining their services in a concise yet proper manner. They wanted to keep the website professional and include pictures in the background with complimenting colours.
due diligence
Our team overcame all challenges like a pro
We realized the importance of having a digital presence for an insurance company when we conducted a deep analysis of competitors and major players in the fitness insurance industry, and concluded that the consumers' approach to evaluating products and services has changed drastically over the years – they visit multiple websites to compare policies, search for discounts, request a quote, or make a purchase right over the Internet.
So obliging to the title of being one of the largest players in the market, we made the website of this Gym Insurance GQ exactly how the audience would prefer. We believed peoples' judgments and decisions were far too dependent on the quotes, and hence focussed on it a lot while making the website. Our team included a lot of CTAs and options to derive a quote from the company as well as made the website completely responsive.
design
Our design team was equally synchronized
The step of doing thorough market research provided enough background information on what is working for some of the major players in order to implement certain elements in our design. We gave information that the user was looking for, we gave them options, everything under the sun related to gym insurance so that one could make a certain decision being on the landing page itself and included quote forms everywhere on the site.
We also included indicative pictures across the whole website so as to give the right idea about the products and services of the company. We followed the best design practices to follow during insurance website development, such as colors, navigation, content, responsiveness, calls-to-action placement, and much more.
implementation
Regardless of complexity, implementation is always fun!
The website was live and was a great success, Gym Insurance GQ was very happy how the architectural framework of the website was designed to tackle the marketing point of view in the insurance market and achieved a lot of leads from their digital presence.
With a cut-throat rivalry in insurance companies, Codebuddy is very happy to see Gym Insurance generating leads and converting them into successful customers because of a robust website.
Sudipta and team Codebuddy has been very communicative, available, and organized throughout the project which contributed to the successful completion of our project in a timely manner.
He followed through on all our objectives and was easy to work with. We really appreciated his support throughout the app launch process as well.
We look forward to working with him more on future projects!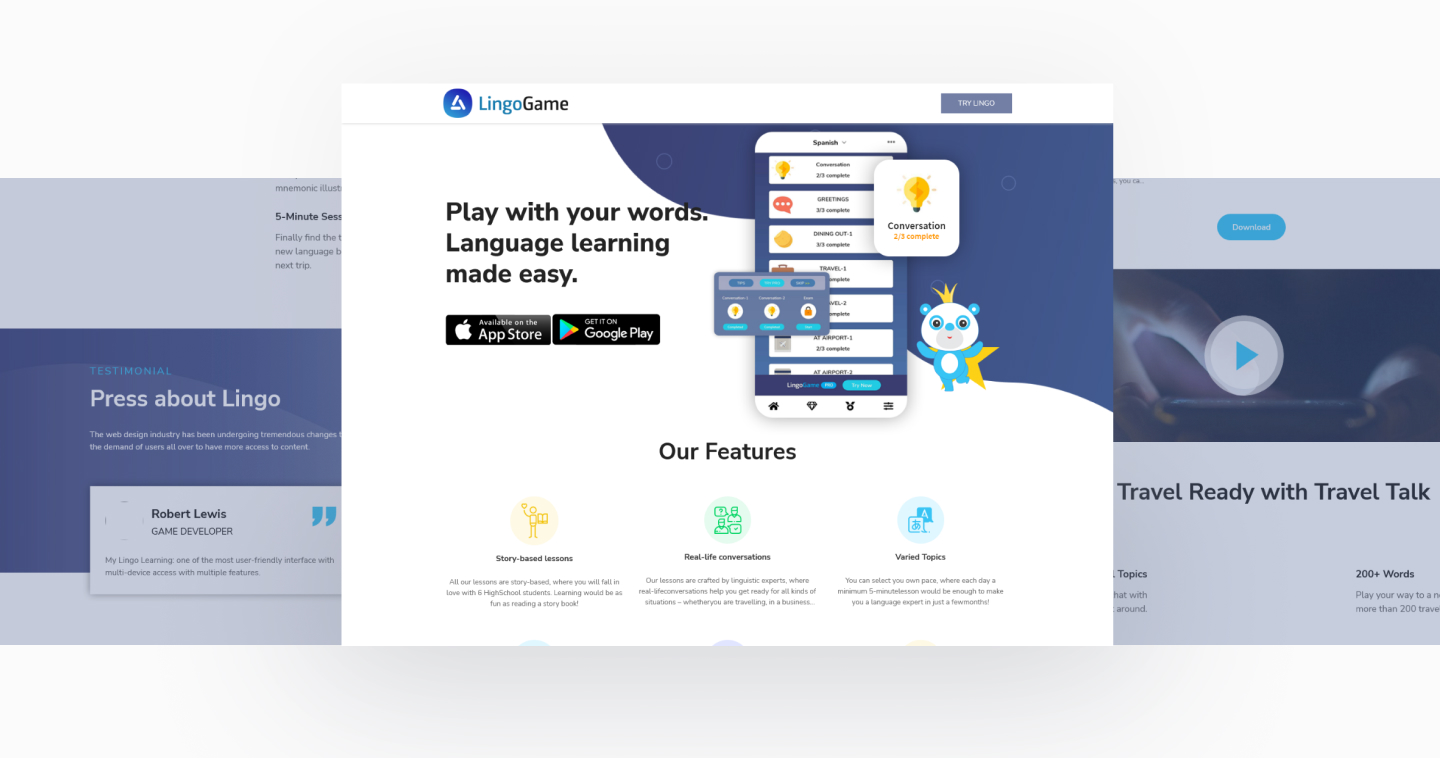 MyLingoLearning - EdTech
Building a language learning application that really connects
read full story